Water Heating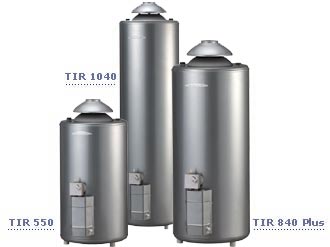 EMEGE Gas Water Heaters comes in 3 sizes
When high volume of hot water is required, such as in jacuzzis, hydromassages, or in case of several simultaneous sanitary applications, Emege has developed the Record High Recovery Water heaters Line. A Multitubular System of caloric dissipation has been added to all the advantages of the Basic Water Heaters Line to allow an enormous gain in thermic efficiency in small spaces. Thus, maintaining the external size of a conventional water heater, Emege achieved a permanent availability of hot water between 2 and 4 times higher than a 150 lts. unit, with a consumption clearly inferior to that of an instant water heater of similar performance.
Main Technical features
Three levels of hot water recovery: 550, 840 and 1040 Lts/hr. Very high hot water volume. External paint with high resistance electrostatic painting. Enamelled vitrified interior tank. Insulation through high density glass wool. Piezoelectric ignition. Automatic thermostat and safety valve by thermocouple. The Record Line of Water heaters satisfy all needs.
| | |
| --- | --- |
| Capacity | 55 Litres |
| Consumption NG | 63 MJ/h |
| Consumption LPG | 1.15 Kg./h |
| Output NG | 17.5 Kw/h |
| Output LPG | 16.2 Kw/h |
| Recovery (L/h^T: 20 deg C) NG | 550 Lts./h |
| Recovery (L/h^T: 20 deg C) LPG | 520 Lts./h |
| Recovery Time 55 Lts | 15 Min |
| Width | 451 mm |
| High | 950 mm |
| Flue diameter | 101.6 mm (4") |
| Weight | 44 Kg |
| Price excluding VAT NG or LPG | R PRICE 1 |
| Model No | MODEL TIR 550 |
| | |
| --- | --- |
| Capacity | 80 Litres |
| Consumption NG | 90 MJ/h |
| Consumption LPG | 1.8 Kg./h |
| Output NG | 25 Kw/h |
| Output LPG | 24.9 Kw/h |
| Recovery (L/h^T: 20 deg C) NG | 840 Lts./h |
| Recovery (L/h^T: 20 deg C) LPG | 750 Lts./h |
| Recovery Time 55 Lts | 15 Min |
| Width | 451 mm |
| High | 1175 mm |
| Flue diameter | 127 mm (5") |
| Weight | 53 Kg |
| Price excluding VAT NG or LPG | R PRICE 2 |
| Model No | MODEL TIR 840 Plus |
| | |
| --- | --- |
| Capacity | 136 Litres |
| Consumption NG | 120 MJ/h |
| Consumption LPG | 1.9 Kg./h |
| Output NG | 33.3 Kw/h |
| Output LPG | 26.6 Kw/h |
| Recovery (L/h^T: 20 deg C) NG | 1040 Lts./h |
| Recovery (L/h^T: 20 deg C) LPG | 840 Lts./h |
| Recovery Time 55 Lts | 17 Min |
| Width | 451 mm |
| High | 1680 mm |
| Flue diameter | 127 mm (5") |
| Weight | 77 Kg |
| Price excluding VAT NG or LPG | R PRICE 3 |
| Model No | MODEL TIR 1040 |
Instant Water Heaters
Available in 3 Sizes
5 Litre per minute
9 Litre per minute
16 Litre per minute
Instant Hot water
Battery Ignition
No pilot flame
Manual controls for water pressure, gas usage and water temperature
Includes flue
Vent pipes
For outside installation only
Must be installed by an authorised installer